Using Artificial Intelligence in the Right Places
AI technologies are ushering in a whole new era of productivity – particularly in industry. The challenge you face lies in identifying use cases that can immediately add value today, and in successfully implementing and scaling them. Allow us to show you what your company can achieve when machines and systems can perceive, learn, understand, and act.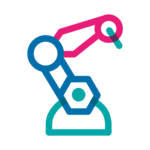 Machine Learning (ML)
ML algorithms enable systems to learn from the past. Using data and algorithms, machine learning tools recognize logical relationships and patterns within large amounts of data. This serves as the basis for identifying and implementing viable solutions. The knowledge gained can be applied in a generalized way across the company and used to solve new problems or analyze previously unknown data.
Machine learning lends itself to a variety of use cases. With it, you can:
Find, extract, classify, and aggregate relevant data
Make predictions based on historical and current data
Automate root cause analyses
Calculate probabilities and risks of certain events
Optimize processes based on identified patterns
Computer Vision
When systems learn to visually perceive and recognize your environment based on digital images or videos, it enables a wide range of industrial use cases. At the same time, this allows you to identify potential for optimization and automation, which – properly leveraged – will permanently increase the efficiency of your organization.
Computer vision systems lend themselves to a variety of use cases. With them, you can:
Identify objects, people and assets
Identify and quantify errors and anomalies
Allow vehicles, robots, and equipment to navigate autonomously
Implement virtual reality and augmented reality solutions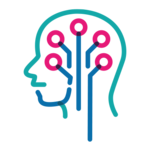 Natural Language Processing (NLP)
There are also numerous deployment scenarios in industry for systems that recognize text and speech. They are particularly effective for optimizing and automating administrative processes or making personal, task-related assistance systems more efficient and user-friendly.
NLP tools lend themselves to a variety of use cases. With them, you can:
Develop task-based assistance systems and chatbots
Automate administrative processes through document recognition and processing using AI and RPA
Automatically identify, classify, and connect information
Optimize database systems and documented knowledge
Refine search and research processes
White paper
Nine Myths about Predictive Maintenance
High system availability, low error rates, and short downtimes are important success factors, especially in high-maintenance sectors of industry. Predictive maintenance can help companies to achieve these goals. This white paper describes predictive maintenance as a principle as well as its strengths. It focuses on typical myths that can complicate the implementation of predictive maintenance.
Download
We Will Guide You to Your Own AI Application in Five Steps
When working on client projects, our consultants combine their many years of experience in process and organizational consulting with in-depth digitization expertise and a strong focus on implementation. In order to achieve initial results as quickly as possible, we have developed a standardized procedure that allows us to systematically and efficiently select and evaluate suitable AI use cases:
Ideation
Identifying the right use case is not always easy. We will help you make the right decisions – from defining your AI strategy to selecting the appropriate use case.
AI strategy and goal development
Use case identification
Potential assessment
Use case evaluation and selection
Requirements identification and evaluation
Discovery
Digitization is not an end in itself, which is why we focus specifically on your business case. We quantify your potential savings through the use of AI solutions, conceptualize the individual use case, and identify the necessary enablers to guarantee its successful implementation.
Business case identification
Architecture and data analysis
Concept creation
Capability testing and identification of enablers
Data collection
Proof of concept & proof of value
To achieve the best possible results for your use case, we develop and train different models. We then pilot test them using real data from your department. This method ensures that the technical solution has the required capabilities and achieves the business case.
Data preparation
Preliminary model training
Model evaluation and selection
Piloting and testing
Model validation and verification
Deploy & Optimize
A model alone does not provide a solution. We work with you to develop a suitable, user-centric application for your use case and make it available to you on premises, in the cloud, or on the edge.
Application development and model integration
Deployment of the solution in the department
Continuous results monitoring
Model optimization
Scale
In order to leverage the full potential of your use case, we guide you through the process of scaling your solution. With an eye on new data and insights, we continuously adjust your model. To achieve this, we apply your solution to all other areas of application at your company.
Model optimization
Company-wide deployment
Identification of further use cases
Model transfer
We Help You Implement the Appropriate AI Technology
Our team currently consists of around 170 qualified, cross-domain developers who develop customized, technology and platform-agnostic AI solutions for our clients In doing so, we take a holistic approach and support you from start to finish. Strategy, process, and digital transformation consulting as well as implementation – all from a single source.