Properly Leveraging Synergies via Embedded and Software Engineering
In the field of embedded and software engineering, the Ingenics Group offers professional development services for demanding projects that meet the highest standards. In doing so, we take an end-to-end consulting approach. This means that we support our customers holistically in the needs-based implementation of their specific business requirements throughout all project phases. This leads to rapid results that have a long-term impact.
Our Expertise in the Field of Embedded and Software Engineering
Embedded Linux
Embedded Linux is a platform whose strengths can be harnessed from SoC to server and which equips you in the best possible way for the Internet of Things. In this context, we provide support from the initial concept to the finished application.
Embedded Security
We implement secure applications specifically designed for embedded platforms and support you in all project phases, whether development, code reviews, or white-box analyses. The result is secure software that meets all of your requirements.
IoT Solutions
The Internet of Things makes it possible to fully connect devices and systems. We accompany you holistically in the implementation of your IoT systems – from microcontrollers to gateways and edge processing to the cloud. In the process, you benefit from our IoT and connectivity expertise.
Technology & Process Consulting
In the process of selecting embedded platforms, real-time operating systems, tools, and development environments, we are always available to assist you with our experience and expertise. To ensure that you have all the information you need to make the right choice, we conduct evaluations and prepare decision and risk matrices for you in advance. In addition, during the project you will benefit from our extensive partner network and wide-ranging partnerships.
Learn more about technology and process consulting on mixed-mode.de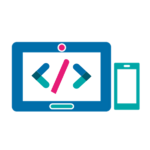 Professional User Interfaces
We can develop state-of-the-art graphical user interfaces (GUIs) and human-machine interfaces (HMIs) for you. In doing so, we place the highest demands on the architecture and enable the greatest possible degree of flexibility and scalability.
Learn more about professional user interfaces on mixed-mode.de
Software Testing & Quality
Take advantage of our expertise in software testing and quality management to increase the quality of your software development processes. We will implement an efficient quality management system for you, establish testing processes and methods, and support you in the introduction of ISO 29119 or methods such as agile testing.
Learn more about software testing and quality at mixed-mode.de