A Clear Vision for Your Digital Transformation
The intelligent combination of lean methods and digitization is a powerful way to increase efficiency in production and logistics. Fundamentally, the company must be viewed as a holistic value creation system and have concrete goals and a strategy in place to ensure that all of its processes and systems are seamlessly integrated.
The market for digital transformation solutions is becoming more complex by the day. Staying on top of things and selecting tools that meet your company's requirements and realistically increase efficiency can quickly turn into a daunting task.
Your Path to a Customized Digital Transformation Roadmap
To address this issue, our consultants focus on several elements that, when combined, lead to a concrete implementation plan with clear milestones and responsibilities:
Strategic Baseline
Any technology you deploy must be appropriate for your needs and goals. Consequently, the first step is to identify the status quo and the potential for increasing efficiency in the areas of your company that are responsible for administrative tasks and those that support production. In this process, existing digitization projects are also considered and combined to form a holistic strategy.
Digital Transformation Vision and Goals
Your company needs a common understanding of the objectives it wants to achieve through digital transformation. We work with you to define these goals, which outline the areas of activity and the desired degree of digitization, based on keynote speeches and workshops. In doing so, our consultants provide you with valuable guidance in the form of best practices and introduce you to the latest trends. An overarching vision helps you facilitate a cross-functional commitment to digitization.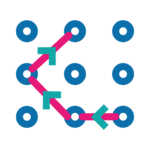 Digital Transformation Roadmap
Once the strategy and goals have been defined, we use them to develop the necessary steps in your transformation process. The aim is to obtain clarity about the necessary steps, points of intersection, and dependencies. This allows you to schedule the milestones on your digital transformation roadmap and sequence the individual project steps.
Transparency and Connecting Systems, People, and Processes
An ideal digitization roadmap for your transformation is the basis for the efficient, step-by-step transformation of your value creation process. It includes technology projects as well as organizational and strategic measures. The only way to leverage the identified potential and achieve efficiency gains is by bringing all of the different perspectives together.